I am so excited that I was able to team up with some amazing bloggers to bring you lots of holiday crafts, recipes, and activities for your whole family.
You can check out all the other posts here: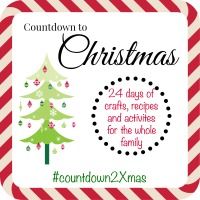 It's Christmas morning, and your house is full of family visiting for the holidays. The kids are up early because they cannot wait one minute longer to open their gifts. So what are you going to have for breakfast? Why not make a loaf of Cranberry Orange Quick Bread?
There are many things I love about Christmas, but the thing that I love the most are some of the amazing smells that come from some of my favorite holiday dishes. I especially love the smell of Cranberry & Orange this time of year, especially when it fills the entire house. So, I thought I would share one of my favorite Quick Bread recipes with you today. This recipe is both Gluten Free & Dairy Free. I hope you enjoy! Also I apologize for the lack of pictures in this post because my last 2 batteries that I have for my camera decided to die while I was trying to snap some pictures for this post.
Cranberry Orange Quick Bread
2 Cups GF All Purpose Flour (my favorite is the Domata brand)
1/2 cup Granulated Sugar
1 1/2 tsp. Baking Powder
1/2 tsp. Baking Soda
1 tsp. Salt
1/4 cup DF Butter, softened
1 egg, beaten
3/4 cup Orange Juice
2 cups Fresh or Frozen Cranberries, chopped
Preheat the oven to 350 F. Grease a loaf pan with coconut oil, olive oil, or butter.
In a large bowl whisk the flour, sugar, baking powder, baking soda, and salt. Using your fingers, mix the butter into the flour mixture until crumbly.
Add the egg and orange juice to the mixture and mix until combined. Fold in the cranberries.
Pour the Quick Bread mixture into a prepared loaf pan. Bake for about 1 hr. or until a toothpick inserted into center comes out clean. Let cool completely before drizzling on the the Orange Glaze.
For The Glaze
1 cup Confectioners' Sugar
1-2 tbsp. Orange Juice
1 tbsp. Orange Zest
In a small bowl, whisk the confectioners' sugar and orange juice together. If you want the glaze to be thick, you can add more orange juice. Whisk in the orange zest and drizzle over cooled bread.
If you have some leftover Cranberries, you can turn them into a cranberry sauce and serve it over the Quick Bread.